Due to COVID-19 concerns, we are going to cancel Extended School Days for this week only. ACE program is still available. Please take care of yourself and our children. If they are showing any symptoms, please keep them home for a few days.

Varsity Boys' Basketball Report from Friday vs. Pettus: Tuesday's game is against Woodsboro.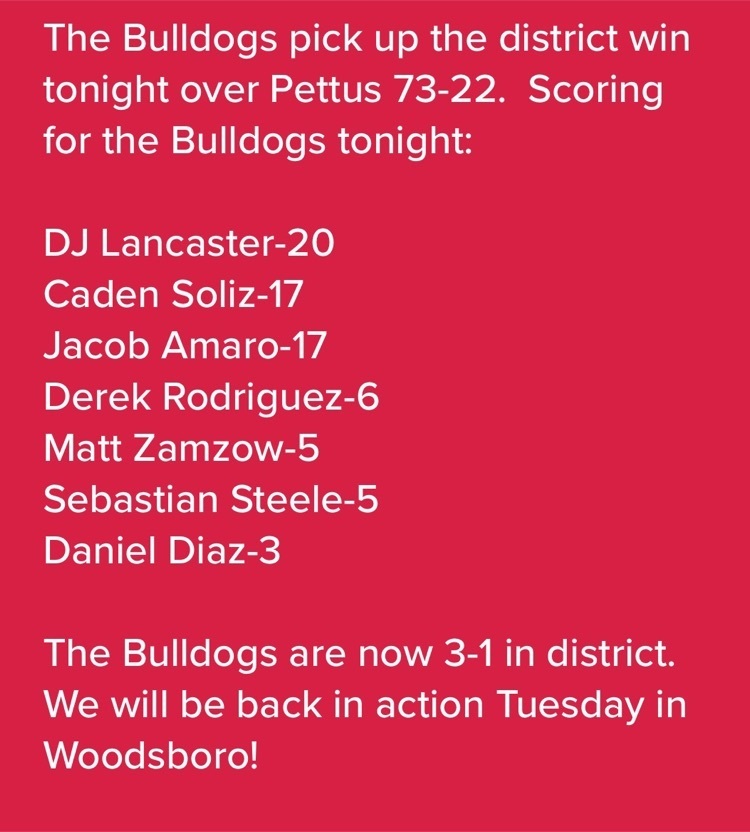 Jr. High Basketball Tournament Update…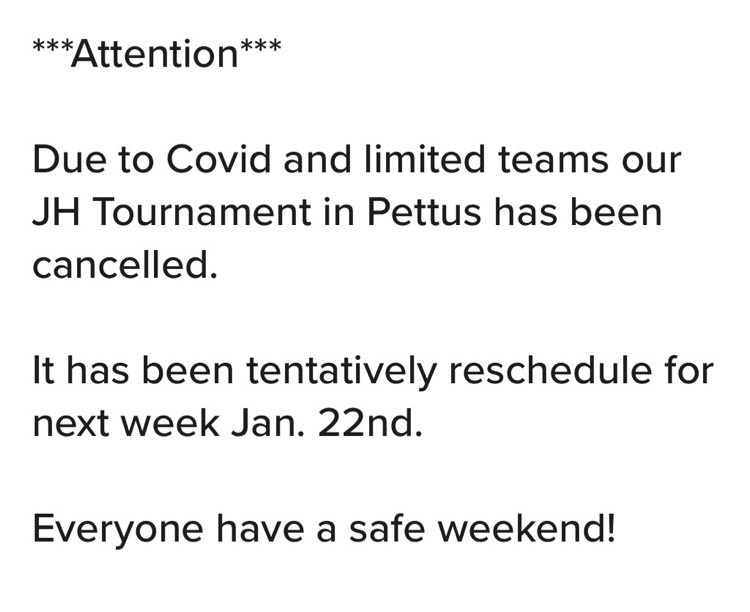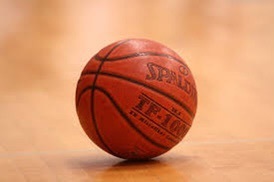 Jr. High Boys' Basketball Recap from Thursday evening…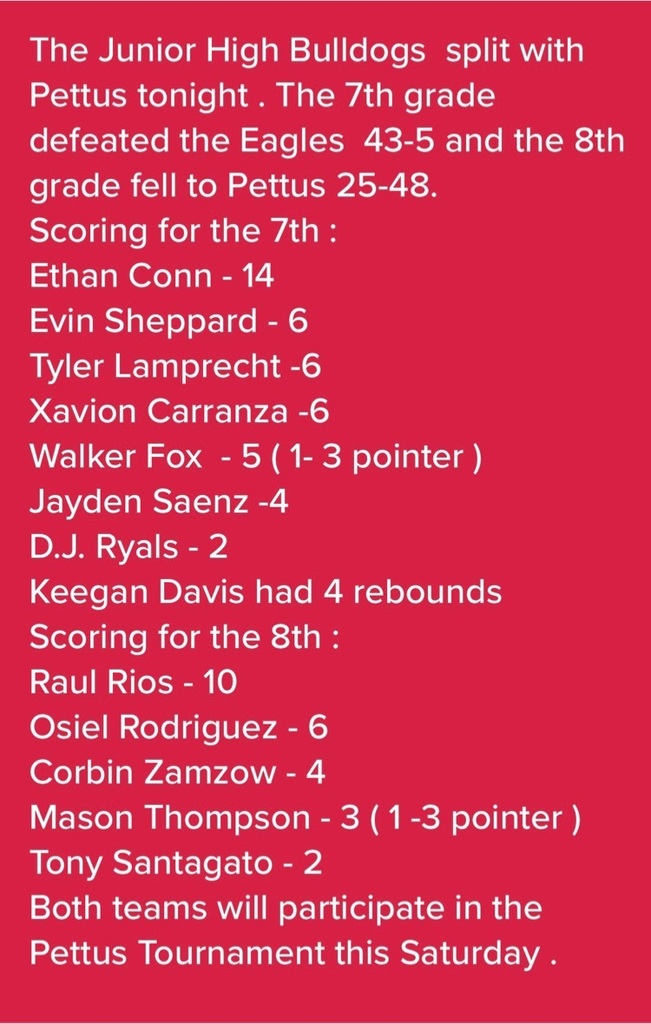 There will be a school holiday on Monday, January 17th, in observance of Martin Luther King, Jr. Day. We will resume with the students on Tuesday, January 18th, 2022.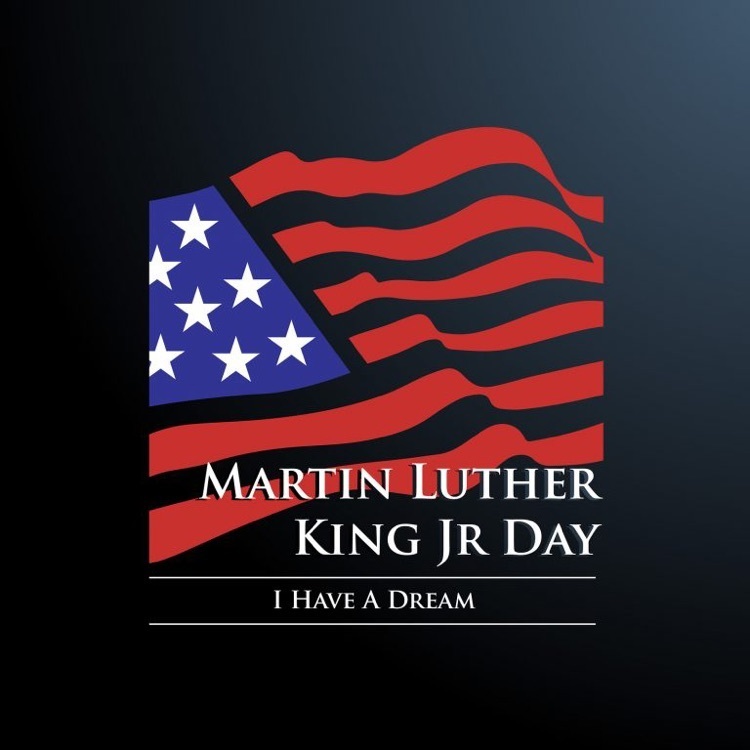 ATTN SENIORS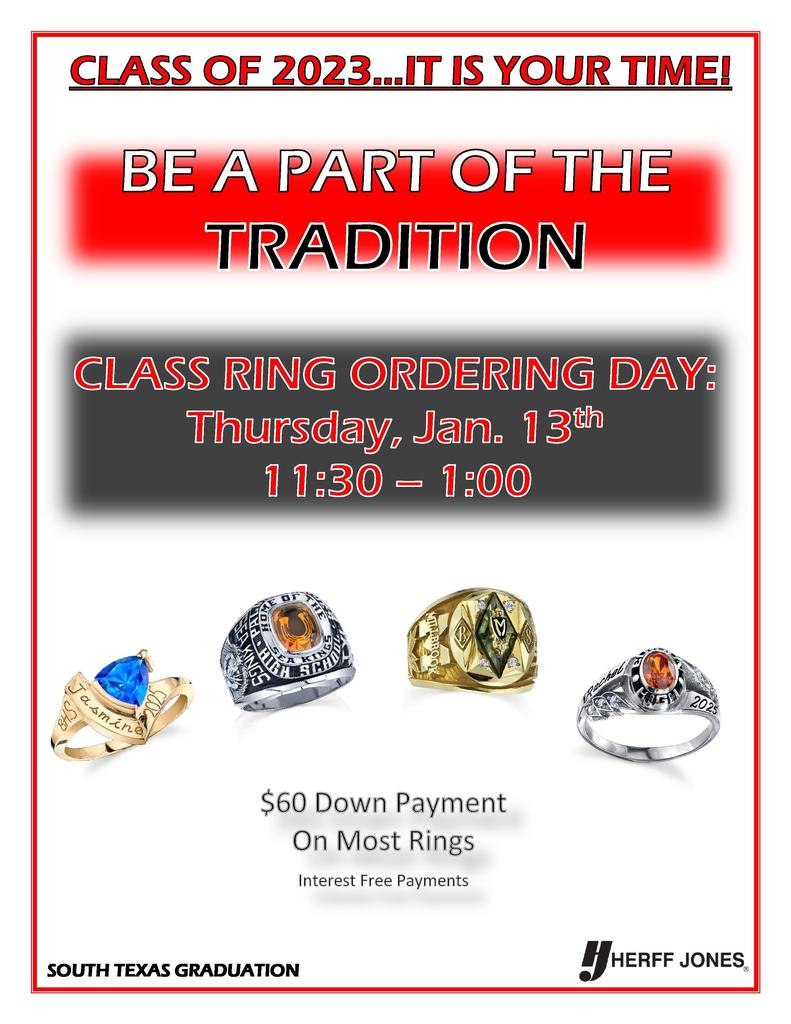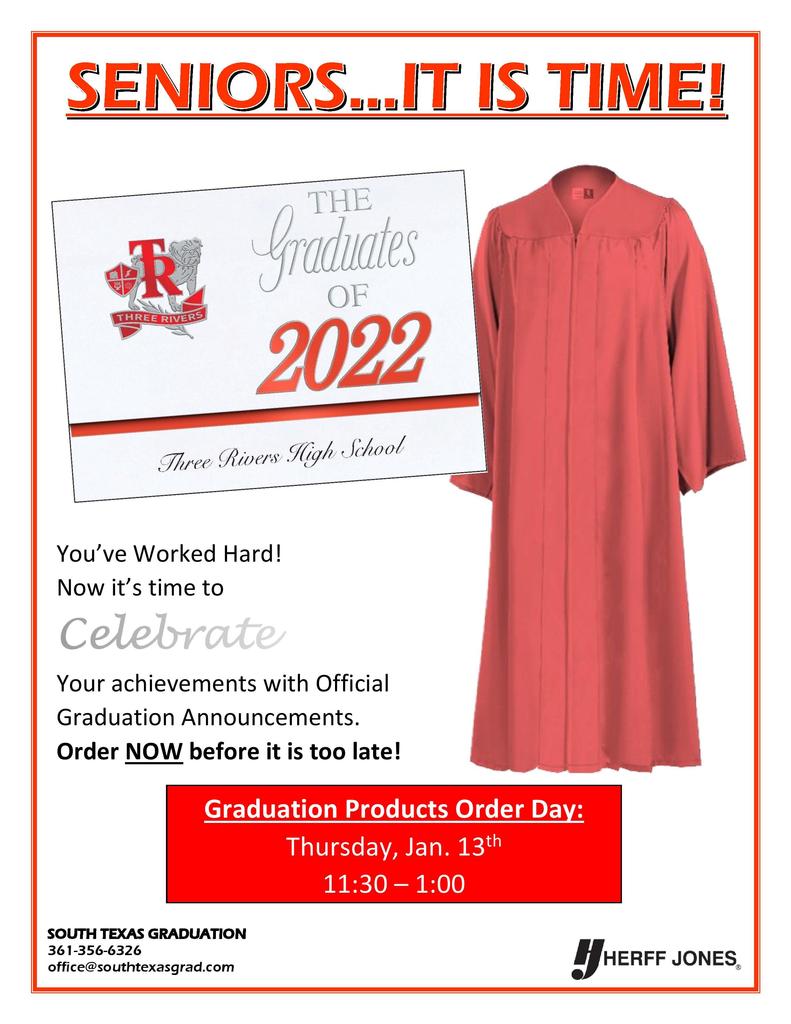 8th grade Lady Bulldogs earned 2nd place at the Tilden Tournament!🏆🏀 We are incredibly proud of their constant hard work and growth! #WeAreTR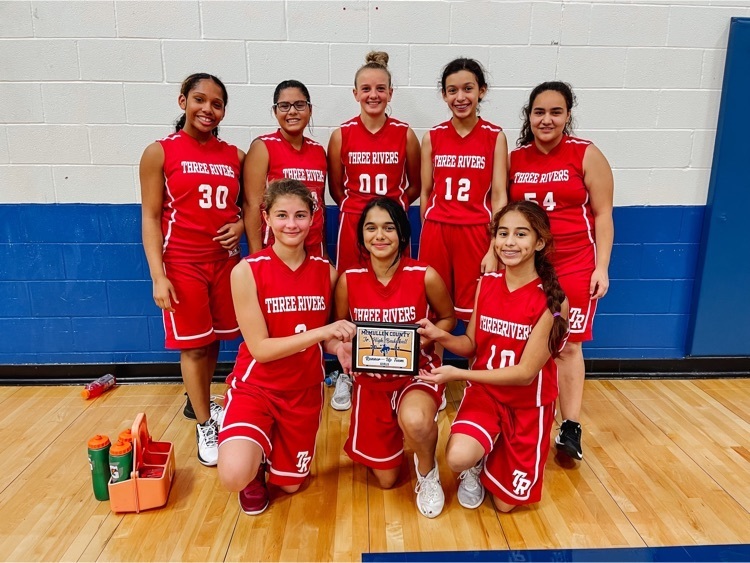 JV Boys' Recap: The JV Bulldogs used a strong finish to defeat Kenedy tonight 37-22. TR outscored the Lions 27-5 in the second half to secure the victory . Scoring for TR: Xavier Carranza - 9 Chris Waechter -7 T.J. Pruchnicki -4 Jason Galey-4 Michael Ianazzi -4 Jacob Rodriguez -4 Isaiah Asevedo - 3 Zaden Vasquez -2 John Silva had 2 steals , Jackson Latta had 2 steals and 2 assists , and Zac Bernal had 1 rebound Great team effort guys !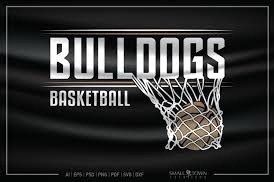 Varsity Boy's Recap: Three Rivers boys' basketball swept Kenedy tonight with the Varsity defeating the Lions 60-49. Leading scorer for the Bulldogs was Jacob Amaro with 20 points . 4 players had 9 points - Sebastian Steele , D.J. Lancaster , Caden Soliz , Matt Zamzow Zac Rodriguez and Daniel Diaz each had 2 points . Zamzow took 5 charges defensively and Derek Rodriguez and Daniel Diaz had 2 rebounds apiece . TR is now 2-1 in district play. Great defense and overall team effort guys!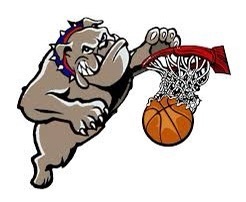 Jr. High Boys' Basketball Recap from this evening's game against McMullen County JHS…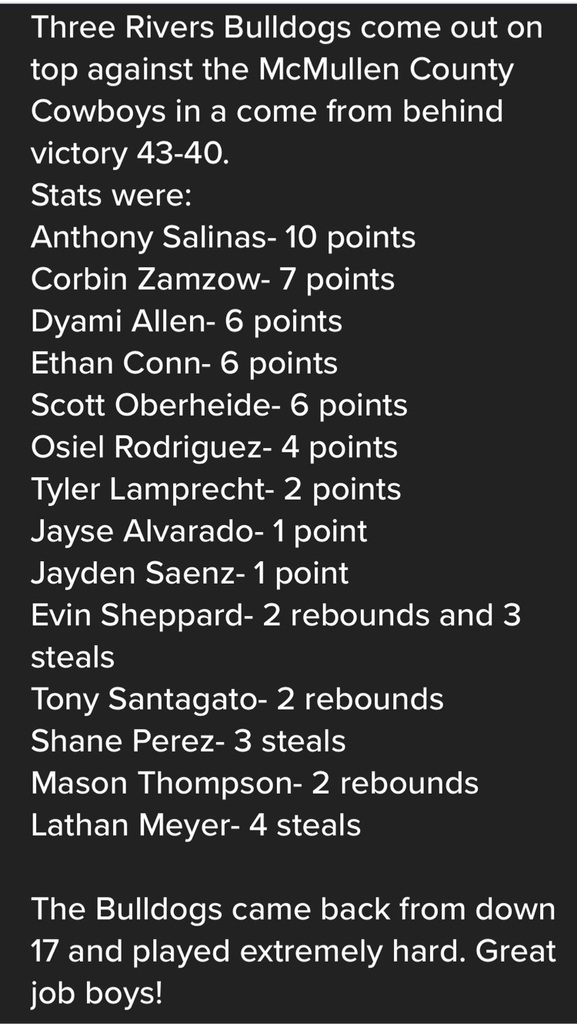 City of Three Rivers Sidewalk Project Groundbreaking Ceremony: This project will benefit our students and community greatly! Thank you Mr. Salazar, Mayor Martinez, and the City Council!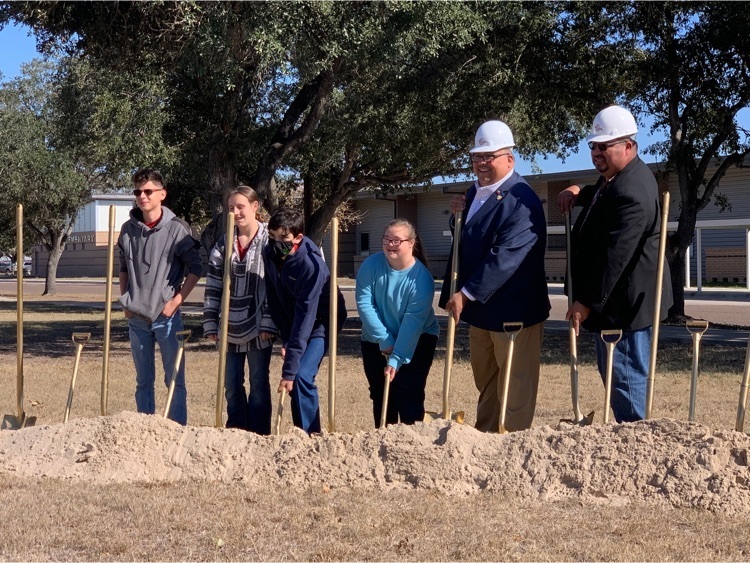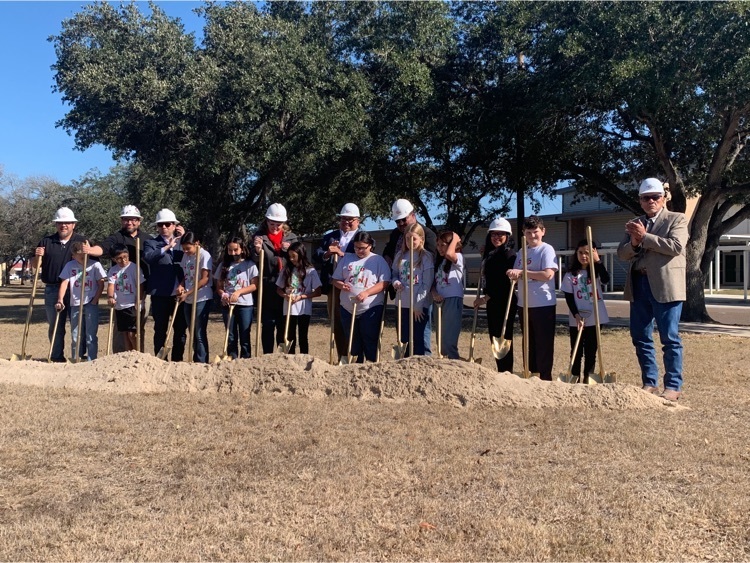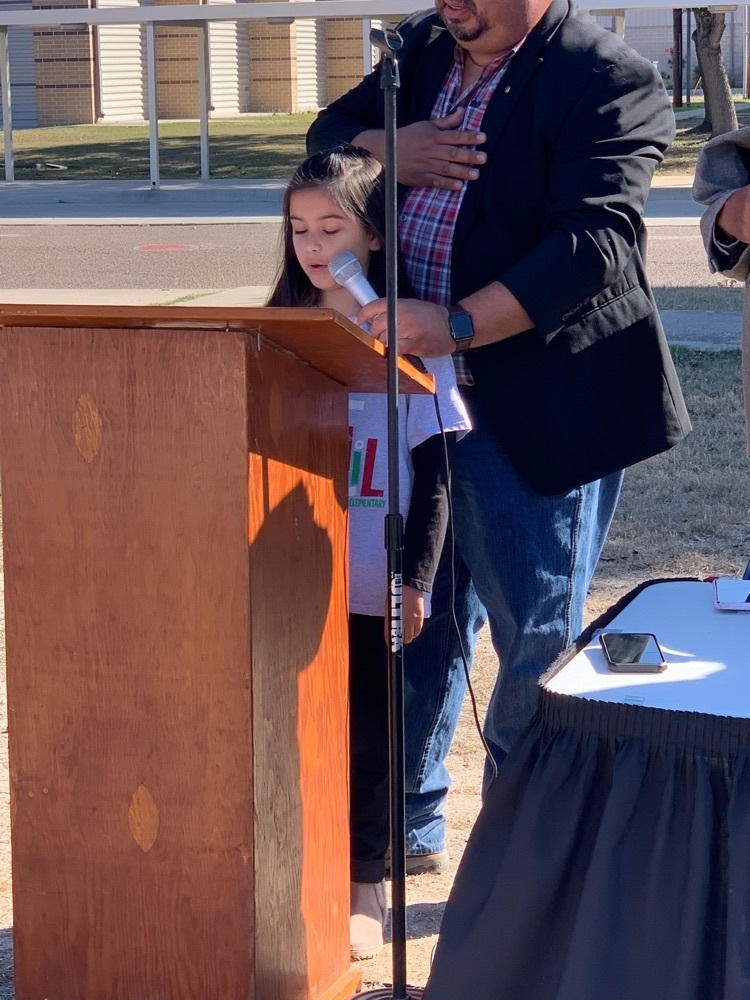 While our TR ISD faculty and staff returns to work tomorrow (Monday, January 3rd, 2022), we return with our students on Tuesday, January 4th. We look forward to seeing everyone! Reach out to us if there is COVID within the household. For any questions, you can reach me at (361)522-9681.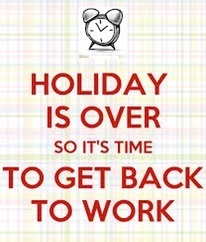 Happiest of New Year Days, Bulldogs. Remain blessed in 2022 and beyond!

JV and Varsity Boys' Recap from the Court! Bulldog Boys Basketball teams opened up district play today with a sweep of Yorktown. The Varsity defeated Yorktown 70-48 . Scorers : Caden Soliz - 22 Jacob Amaro - 18 D.J. Lancaster -11 Sebastian Steele - 9 Matt ZamZow - 9 Zac Rodriguez had 4 steals and Daniel Diaz had 3 rebounds Scorers for JV : Xavier Carranza - 12 Isaiah Asevedo -11 Zaden Vasquez - 6 Jason Galey - 4 Kevin Davis -4 Jacob Rodriguez - 3 T.J. Pruchnicki - 2 Jaxson Latta had 3 steals and Zac Bernal and John Silva had 1 rebound apiece Great job Bulldogs!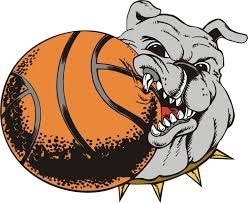 Merry Christmas from Three Rivers ISD!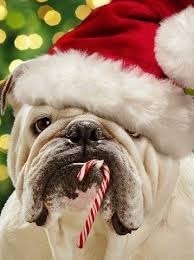 Varsity boys' Recap…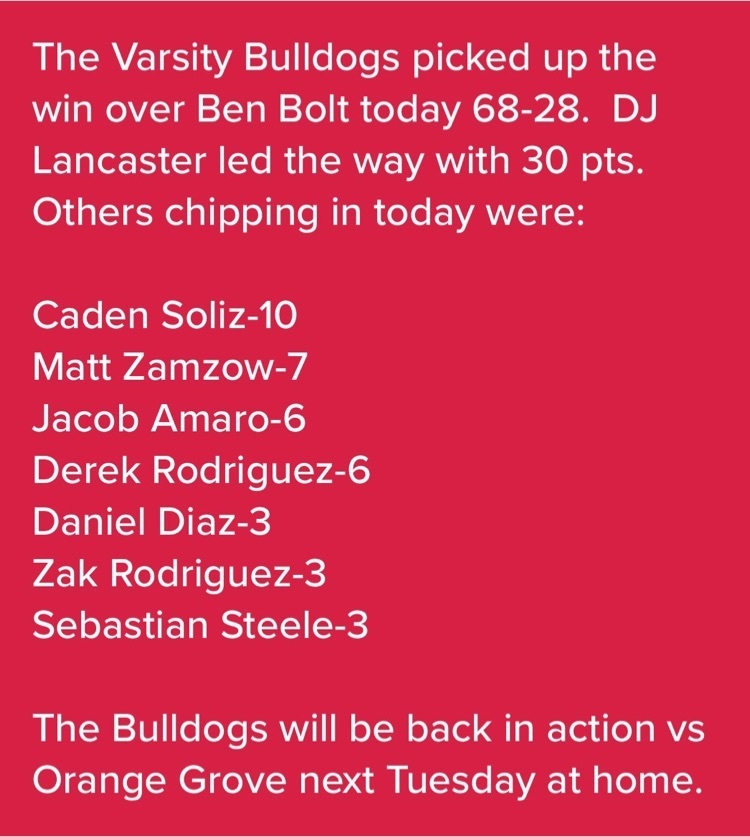 JV Boys' Recap: The JV boys basketball team defeated Ben Bolt today 46-22 . Leading scorer was Kevin Davis with 12 points . Rounding out the scoring was : Xavier Carranza - 10 points Jason Galey - 9 points Isaiah Asevedo - 5 points Zaden Vasquez - 5 points Dominic Perez - 3 points Jaxson Latta - 2 points Michael Ianazzi - 2 points Defensively , T.J. Pruchnicki had 4 steals , John Silva had 2 steals , Jacob Rodriguez and Zac Bernal had 2 rebounds apiece . Great job guys ! The next game will be next Tuesday, Dec. 28th, at home against Orange Grove at noon .

Bulldog Basketball tips off this afternoon (Tuesday, Dec. 21, at home vs. the Ben Bolt Badgers. Varsity takes the court at 1:15 pm.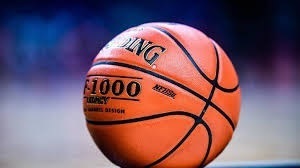 Thank you to Chief Vance Roberts and Captain Jesus Rodriguez for keeping our TR ISD schools safe in light of the national online threat! We know where your priorities are…STUDENT SAFETY!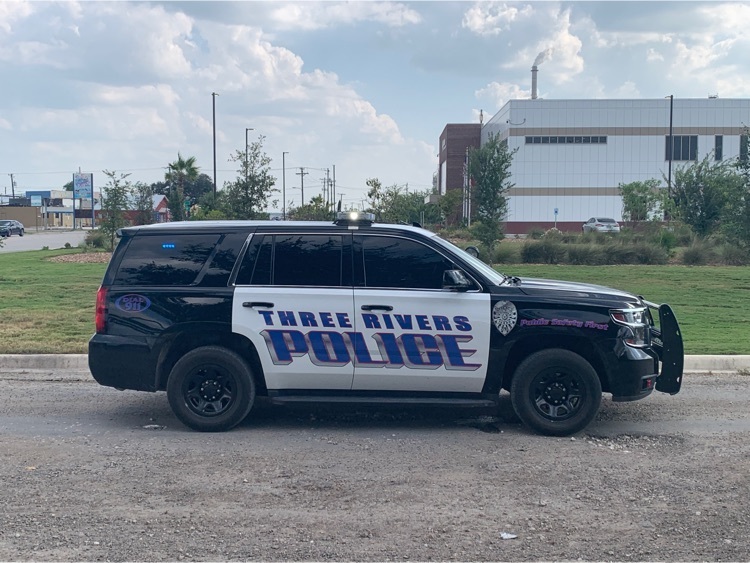 The ACE Program will continue to offer programming on January 4th with snacks and transportation after school! The morning hours for secondary are 6:30 am to 7:45 AM and the evening hours are 3:30 PM to 6:15 PM. I would like to "Thank" all the students who have been attending and wish everyone at TRISD a very Merry Christmas and a Happy New Year!